FORHEX AWARD
Forhex was established 10 years back as a small group of Rajasthan Handicrafts exporters. Since then it has grown into a widely recognized and respected association of National & International level bodies.
Forhex awards are given every year in nine categories. This year award for the best craft work done by a mentally or physically challenged person has gone to Charu Taneja, a student of Disha. The award was given to her for showing exceptional talent and perseverance in creating a unique bed cover with patch work and applique work.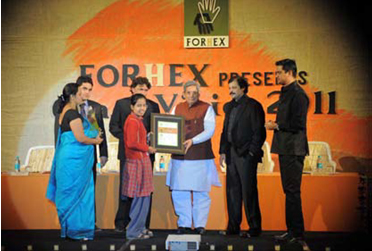 SBI AWARDS
In the current year the State Bank of India (SBI) (NRI Branch) organized various painting competitions for the special and mainstream school children. Children from Disha participated in the same. Seven of them were felicitated for the exceptional efforts in creating beautiful art forms which took shape in the creation of marvelous paintings.
Chandni, Aditya, Sunny and Anurag won a cash prize of Rs. 5000/- Avin , Nishant and Komal won a cash prizes of Rs. 1000/- each.



WORLD DISABILITY DAY
Executive Director of Disha Ms. Rainu Singh received an award from the Education Minister Sh. Brij Kishore Sharma (organized by KB Foundation, Ajmer) on the occasion of World Disability Day on December 3rd 2011.



Awards/ Recognitions received from Government and other Organisations
Disha has earned special awards from the Government of Rajasthan for outstanding work in the field of Social Welfare.
Disha has been granted a certificate of accreditation by Credibility Alliance for its good governance in the voluntary sector. Credibility Alliance is a consortium of voluntary organizations committed to enhancing accountability and transparency in the Voluntary sector through good governance.
Disha is affiliated to & is recognized by the Rehabilitation Council of India (A body created by the Govt. Of India for monitoring all organizations working for the rehabilitation of the Disabled)
It is recognized by the Institute of Open Schooling (A national body) for all its academic programmes.
Disha is affiliated to and recognized by the National Trust (for the Welfare of Persons with Autism, Cerebral Palsy, Mental Retardation & Multiple Disabilities, a Statutory Body under the Ministry of Social Justice & Empowerment, Govt. of India). Disha was the State Nodal Agency for the years 2004 to 2007 representing the National Trust in Rajasthan. All its programmes related to advocacy for the cause of disability are through the National Trust.
Disha is recognized by & affiliated to the University of Rajasthan for its Post Graduate course of Bachelor in Education (Special) in Mental Retardation.